More and more Malaysians have been able to enjoy faster, cheaper Internet packages throughout the country, and now it's time for those with bundled packages to enjoy the benefits as well!
Upgrade Time!
Perhaps you remember a time back in late August 2018 when Maxis announced its new broadband plans. Perhaps you were excited when Maxis later announced that existing customers are able to enjoy these new packages as well, but…it didn't happen, because your package happens to be part of an Astro-Maxis IPTV bundle, rather than an independent package. Well, it's going to happen soon!
New Plan Prices
At the moment, the Astro-Maxis IPTV package offers Internet plans at RM148/month for 10Mbps, RM198/month for 20Mbps, and RM248/month for 30Mbps. That's reminiscent of pre-2018 plan rates, plus a top up for the bundle. Luckily, subscribers to the Astro-Maxis IPTV package will soon be able to enjoy new rates and new prices as well, and best of all, this will be done free of charge!
30Mbps Plans
For now, the focus is on getting 30Mbps Internet speeds to more people. Those currently on the 10Mbps package will be bumped up to 30Mbps and pay the reduced rate of RM89/month, same as Maxis subscribers. Those already on the 30Mbps package will get to keep their speed, but also pay the reduced rate of RM89/month.
100Mbps Plans
The 100Mbps plan that's currently available under Maxis will also be offered under this bundle, but this will take place from January 2019. You will be recontracted if you opt for this option, as it will involve a hardware upgrade.
Hardware Upgrades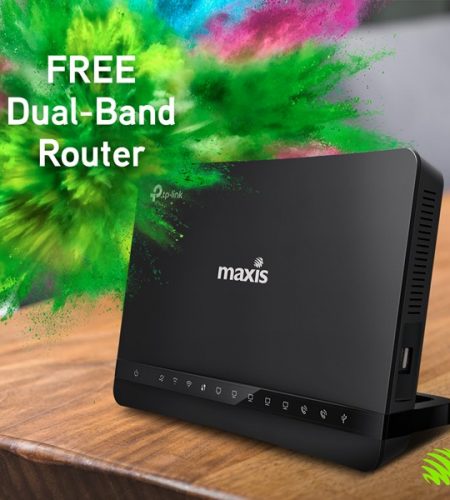 Image via Maxis
Subscribers of the 10Mbps plan will receive a free hardware upgrade
If you're eyeing that 100Mbp plan in the future, you'll receive a new dual-band Wi-Fi router for your home from January onwards.
Add-Ons
What's even better than getting faster Maxis broadband, Astro IPTV, and lower prices all at once? Well, Astro's looking to sweeten the deal further by offering Astro packages as add-ons for as low as RM39.95 per month. This means that you needn't stick purely to IPTV and Internet anymore for your movie binges!
Eligibility
The letter circulated by Astro IPTV was targeted at its existing subscriber base, with no news about the rates for new customers. However, it will probably be the same.
Kickstart Date
The new prices and speeds for the Astro-Maxis IPTV package will start next month onwards, in December 2018, while the 100Mbps option will start next year.
How to Sign Up
With only a few days to go till December, Astro IPTV is making the new broadband plans available immediately. You can upgrade in one of three ways: online through their website, Interactive Voice Response (IVR), or SMS.
Conclusion
Isn't this great – you'll be able to enjoy faster speeds, or at least cheaper prices, when you binge watch IPTV movies, and just in time for Christmas too!
(Visited 141 times, 1 visits today)