Do you want to be able to use the full gamut of mobile services – calls, SMS, and data – for as little as RM19? Well, now you can do that and more with Unifi Mobile's new plans!
General Changes
In general, Unifi Mobile's new postpaid plans all follow the same format as its prepaid offerings: split quota for LTE and 3G, hotspot, limited calls, and a standard cap of 25 SMS across the plans. Additional calls and SMS will be charged at RM15 per minute/SMS. And unlike many of the traditional postpaid plans out there, all of Unifi Mobile's plans come with no contract, so you can switch and stop anytime you please!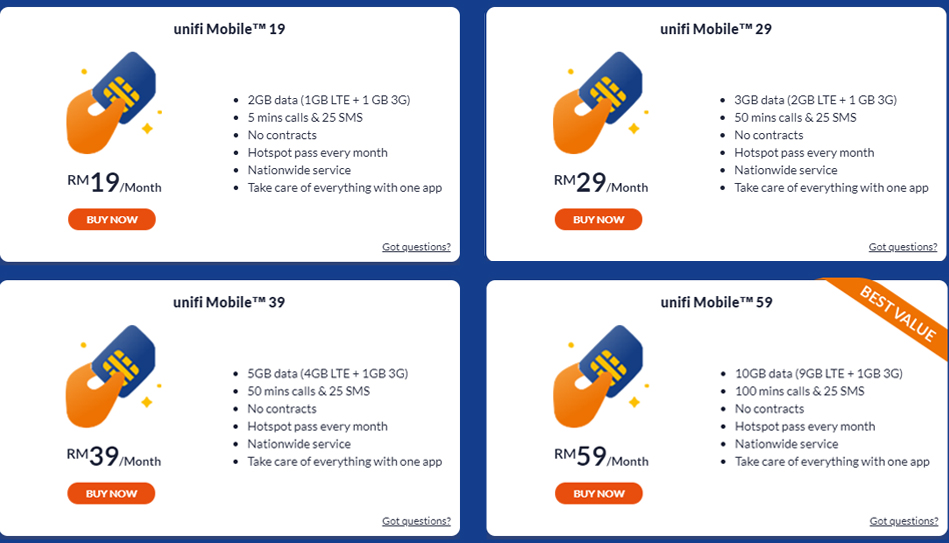 Image via UniFi
Unifi Mobile 19 Plan
The starter pack for Unifi Mobile starts at a very affordable RM19/month. For that value, you can get 2GB of data (1GB LTE + 1GB 3G). You'll also get a paltry 5 minutes of calls, plus the standard 25 SMS. This is a truly basic plan and meant for those who either use very little data or those who have Internet at home, but if you still want to share your data, you can use your phone as a hotspot as well. Ironically, you will also have to use more VoIP or WhatsApp in order to stay within the 5-minute call limit!
Unifi Mobile 29 Plan
The Unifi Mobile 29 Plan might just be the sweet spot for the casual, individual phone user. With 3GB data quota (2GB LTE + 1GB 3G), it should be just enough for the average user provided you don't watch too many videos while on data. The calls limit is also more reasonable, at 50 minutes.
Unifi Mobile 39 Plan
For just RM10 more, you can sign up for the Unifi Mobile 39 Plan, which offers you an additional 2GB worth of data! This plan comes with 4GB LTE + 1GB 3G. The LTE quota finally sizeably exceeds the 3G quota and should be able to comfortably accommodate the casual user who watches occasional videos. You also needn't worry too much about running out of data when you share your hotspot!
Unifi Mobile 59 Plan
If just RM10 nets you an additional 2GB of data, would you leap at the chance to get an additional 5GB more than that, for just RM20 more? Because that's what the Unifi Mobile 59 Plan is offering: 9GB LTE + 1GB 3G, giving you a total of 10GB. You also get 100 minutes of calls, which should be more than enough unless you're the type to make a lot of calls the traditional way.
Unifi Mobile 99 Plan
Do you want to be truly #Bebas? Then jump all the way in and gun for the Unifi Mobile 99 Plan, which offers unlimited calls, SMS, and data for RM99 a month. If you're wondering why this plan sounds familiar, it's because this is the original plan offered by Unifi Mobile, exclusively for TM customers. The offer is now extended to all users, so more Malaysians can take advantage of unlimited goodness online! However, you can only hotspot up to 10GB of data a month, after which you need to purchase a hotspot pass for 500MB at RM8 or 1GB at RM15.
Add-Ons
For those who choose to go with one of Unifi Mobile's new, limited quota plans, you can still purchase add-ons for data, voice and SMS.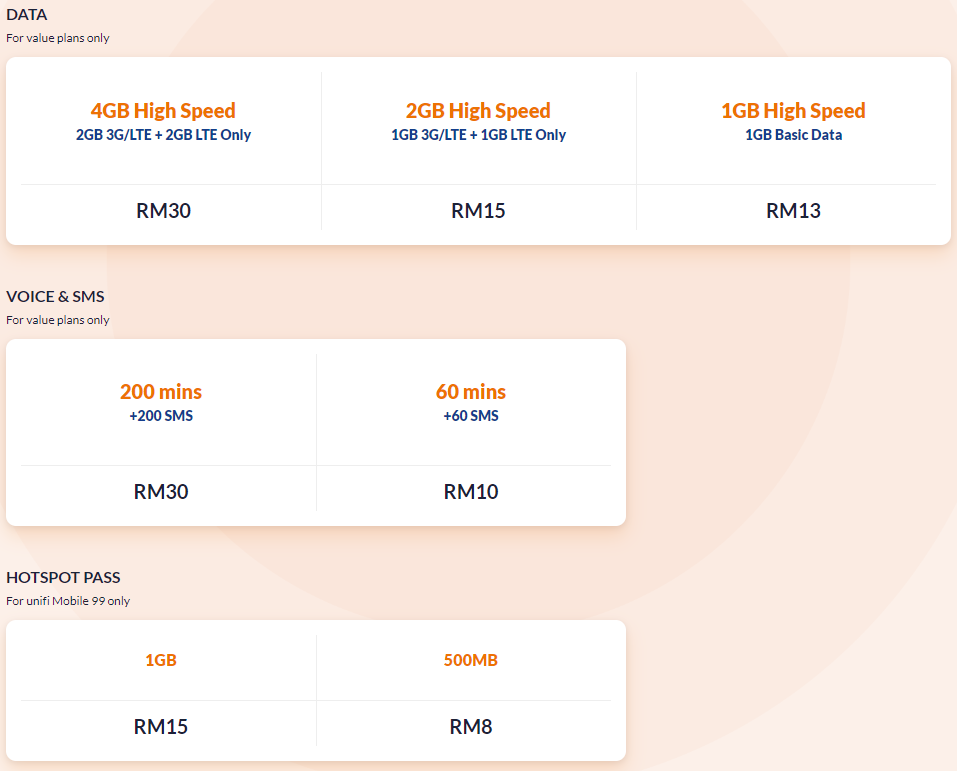 Image via UniFi
Data
For data, you can opt for 1GB High Speed basic data at RM13, 2GB High Speed 1GB 3G/LTE + 1GB LTE at RM15, or 4GB High Speed 2GB 3G/LTE + 2GB LTE at RM30.
Voice & SMS
For calls and SMS, you can opt to purchase 60 minutes + 60 SMS at RM10, or 200 minutes + 200 SMS at RM30.
Conclusion
The no-contract aspect of all Unifi Mobile plans is certainly attractive and speaks to our needs as consumers. Are you loving the wide range of flexibility offered by Unifi Mobile?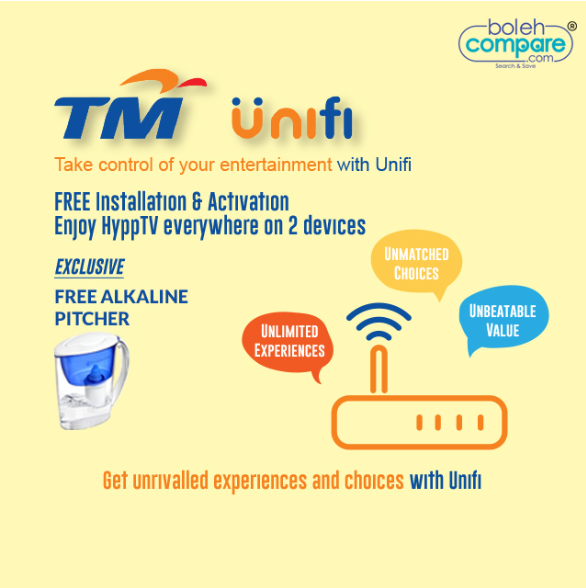 (Visited 54 times, 1 visits today)